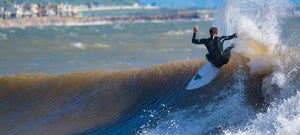 No Gimmicks
Brain Fuzz
Thermal Brain Fuzz lining insulates heat (keeping you warmer!) and dries fast.
Limestone Neoprene
Made from earth mined limestone to replace petrochemicals in our neoprene. It comes from nature and has less environmental impact.
Dope Dyed Fabric
Dope-dying infuses dye pigments into a molten plastic solution to produce coloured yarns without the dying process, saving tremendous amounts of water
Sustainable Performance Wetsuits
Vissla is a brand that represents creative freedom, a forward-thinking philosophy, and a generation of creators and innovators. We embrace the modern do-it-yourself attitude within surf culture, performance surfing, and craftsmanship. We constantly strive to minimise our environmental impact and protect the oceans and waves that raised us. This is a surf-everything and ride-anything mentality.
We are creators and innovators.
★★★★★

I can honestly say that the 7 Seas is one of, if not the best suit I've worn, and I've burnt a bit of rubber along the way.
★★★★★

Oooooweeee. This thing is supple like a velveteen snuggle bubble. The rubber is buttery, the fit is generally epic and the stretch makes it super easy to get off an on.
★★★★★

Best suit I have owned. Warm, flexible, easy to put on and very durable. Seams and cuffs are holding up well after a year of use. Comfy lining! Vissla booties are awesome too!
Treat with special care! Rinse wetsuit thoroughly inside and out with fresh water. Hang dry in a cool shaded area and avoid hanging in direct sun light. When changing, avoid standing on the wetsuit.
The best wetsuit is one you don't mind wearing, keeps you warm (but not too warm), and is durable. Your best wetsuit will depend on the temperature of water and your needs. Review our wetsuit thickness chart for more info!